Home » how to get to Porec
Getting from airport Rijeka-Krk to Porec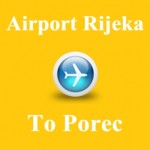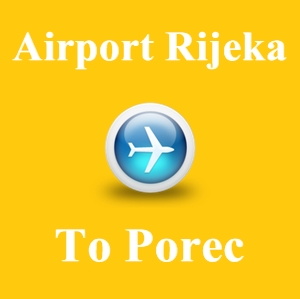 The airport Rijeka is situated on the Island Krk, which is about 30 km from the city centre of Rijeka. From the airport there is an airport bus to the centre of Rijeka, the airport bus leaves shortly after arrival of any scheduled flight.
If you are travelling to Porec via the airport in Rijeka, you have several options in terms of transportation which we have listed here.
By Car, the shortest and fastest route between airport Krk-Rijeka and Porec is about 115 km and has an estimated travelling time of 1 hour and 45 minutes, parts of the road is highway where toll fees apply. At the airport most of the international car rental companies plus a few local ones have offices, a selection of the best rental offers you can find here.
Transfer, if you are looking for a hassle free form of travelling from the Krka airport to Porec, a pre-booked transfer is most properly the best choice. Transfers can be booked for 1-3 persons in a regular sedan or for up to 8 persons in a minivan; you can check the prices and pre-book a transfer

here

. Tip: If you are staying at on of the many Hotels in Porec, you should check with the Hotel, if they offer any solution for the airport transfer.
By Bus, there are NO direct connections from the Krk-Rijeka airport to Porec, what you need to do to travel by bus, is first to take the airport bus from the airport to Rijeka centre (More info you can find here), the airport bus stops at Jelačićev square which is a bit more than 1 km from the main bus station in Rijeka, from the main bus station you have several daily bus departures towards Porec, you can check the timetable here.
By taxi, if none of the above mention travel options meet your requirements, then you of course can always take a taxi from the airport, be aware it is pricy, taxis are parked in front of the airport terminal, make sure to agree upon fare price before leaving the airport.
Feel free to leave a comment below if you have any questions about travelling from the Rijeka-Krk airport to Porec.
Tags: Getting to Porec