Home » how to get to Porec
Getting from Pula Airport to Porec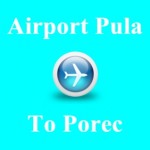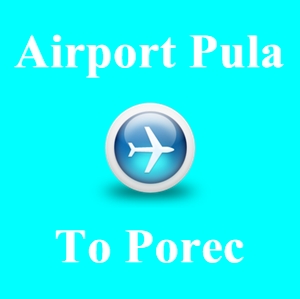 Porec is situated about 57 km (shortest route) from the Pula airport, which equals a travelling time of about 50 minutes by car. Majority of the route goes along the newly finished Istrian Highway, where road toll apply.
If have to travel to Porec from the Pula airport you have several options in terms of transportation which we have listed here.
Car, as mentioned above the car trip from the Pula Airport to Porec takes about 50 minutes, if you wish to use the opportunity to see a bit of the Istrian coastal line; you have an alternative toll free route with a length of about 75 km. At the Pula airport it is possible to rent a car, depending on company, one way renting to Porec is possible. You can see current rental offers from most the car rental companies present at the Pula airport here.
Transfer, if you are looking for hassle free transportation from the airport to your final destination in Porec, you should consider a pre-booked transfer, if you are staying at one of the many Hotels in Porec, the Hotel might have some kind of airport pickup arrangement, if not, you can find transfer offers from the Pula airport to any address in Porec here.
Public Bus, if you plan to travel by bus from Pula airport to Porec, you first have to take the airport bus from the Airport to the main bus station in Pula, from there you then have buses to Porec, you can see the schedule for buses from Pula to Porec here. End to end travel time by bus vary from 2 to 4 hours depending on time of day, by late arrival at the airport, bus might not be an option.
Taxi, obviously there is of course also the option to take a taxi from the Pula airport, if you do so, make sure to agree upon a fare price before leaving the airport.
Feel free to leave a comment if you have any questions about travelling from Pula airport to Porec.
Tags: Getting to Porec