Home » Campsites
Camp Zelena Laguna Porec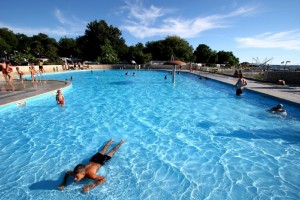 Camping Zelena Laguna Porec*** Situated 5.5 km south of Porec city center just next to the camp Bijela Uvala. Zelena Laguna is a large tourist resort which also includes several hotels. The Camp Zelena Laguna is divided into a part for "normal" campers and a small part for naturist campers. The camp has a capacity of close to 3000 campers.
The camps blue flag beaches, the entertainment and animation program and the large number of facilities on the campsite as well as the fact that all plots have large trees providing plenty of shadow during the hot summer days, makes Zelena laguna a perfect choice for a family camping holiday.
The 6 sanitary buildings at the campsite are evenly distributed on the premises, the sanitary facilities include, hot water showers, private showers, special shower and toilet facilities for the disabled, laundry room and equipment/area for ironing, shower area for dogs, and of course facilities for washing dishes. Fridge boxes are available by the toilet building 2 and 4.
Facilities at Camping Zelena Laguna:
The basic facilities at the campsite include a mid size supermarket, a fruit shop, newspaper stand / Kiosk, a souvenir shop and several public payphones. The culinary offer included two restaurants and a few grill places and bars. The Camp also has it own harbour for smaller boats, from the harbour it is possible to go by boat to Porec.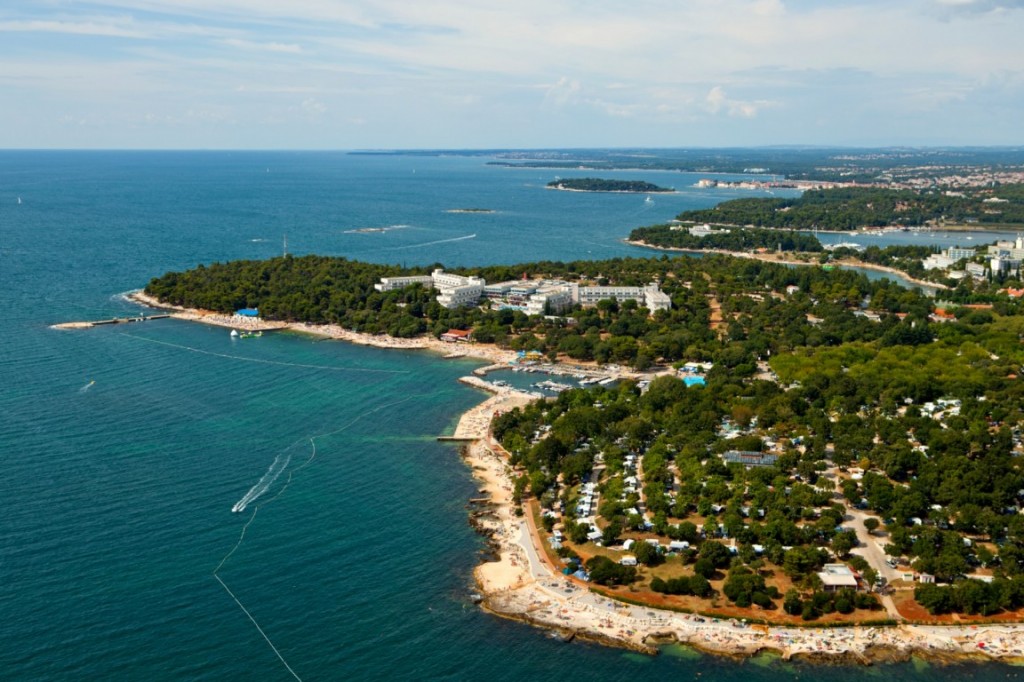 The Sports facilities at Camp Zelena Laguna includes, table tennis, tennis courts, a sandy pitch for beach volleyball, and a mini golf court. Bikes are available for rent at the campsite. Windsurfing, boat rentals are available for those who like water sports.
At the blue flagged pebbly and rocky beaches, deck chairs and umbrellas can be rented for a small fee. The smaller ones may enjoy them selves at the children's beach, the naturist beach is situated in a separated area of the camp. For those who do not like to swim in the sea, the camp also have a large swimming pool.
The animation program at the campsite include mini-club for the children in the morning and evening entertainment, for the adults there is morning gymnastics, different sports tournaments as well as an evening entertainment and animation program.
Other Information
Pets are allowed on campsite.
200 m from the infirmary
5 km from the hospital and pharmacy
800 m from the gas supply (at Camp Bijela Uvala)
Lots at Camping Zelena Laguna:
The camp has a total of 1200 lots, sized from 70 to 120 m2. The pitches have water and electricity connection. The Zones E, C and B has limited number of pitches directly by the Sea.

Distance to larger cities in the Area
Distance to the centre of Porec is about 6 km, which is about 10 minutes drive.
Distance to the centre of Vrsar is about 6 km, which is about 10 minutes drive.
Other Camps in the Porec Area: – Click on the map to see all camps in Istria
Camping Puntica Funtana
Camping Valkanela Vrsar
Camping Materada Porec
Camping Naturist Ulika Porec
Naturist Camping Istra Funtana
Camping Bijela Uvala Porec
Camping Tina Vrsar
Camping Orsera Vrsar
Contact details of Camp:
Address: Zelena laguna, 52440 Poreč
Telephone: +385 52 410 700
Fax: +385 52 410 601
GPS: N 45 11.767 E 13 35.350

Pictures from Camp Zelena Laguna:

pictures used with permission from Plava Laguna
Tags: Camping Istria, Camping Porec, Zelena Laguna