Home » Hotels
Hotel Riviera Porec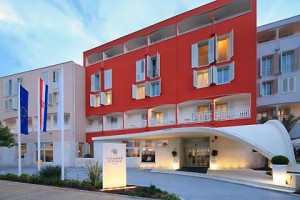 Part of the Valamar brand, the Riviera Hotel is located in downtown Porec, Croatia, in its region of Istria. The precise location is right at the town quay, which means unobstructed view to the big blue sea and local islands, the vicinity of all sights such as the renowned Euphrasiana, and a private beach on a nearby isle for hotel guests as well.
Rooms and suites at Hotel Riviera:
The hotel boasts 105 rooms with the total of 208 beds, all equipped with style. There are 94 double and 2 single rooms, including 9 suites. The standard offer features air conditioning and Wi-Fi internet. Eight of these are the so-called "luxury suites", with 16 beds in total. The hotel is a three-storey building, and there is an elevator that is adapted to disabled persons.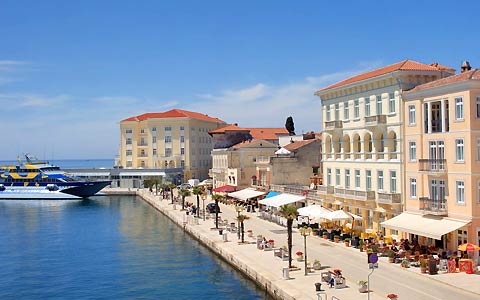 Facilities at Hotel Riviera:
Available are fitness and massage, and some nice touches such as the "valet service" – your car is driven to hotel entrance upon request. As for entertainment, the Hotel Riviera does offer some, but this is slightly beside the point in the town known for its year-round list of festivals and events. In terms of conference amenities, the hotel can accommodate up to 80 people, while additional premises are available in Villa Polesini, which can house conferencing for some 200 people, or 300 hundred in its garden. Tickets for local events can be booked hassle-free using hotel desk staff. The hotel offers both local and international cuisine. If coming by boat, you will surely appreciate the possibility of having these delivered to your vessel. Don't miss out on local specialties that feature truffles, wild asparagus, superb olive oil and grilled fish and meat.
Outside Hotel Riviera:
Porec, and Istria in general, are often host to numerous sports events, both professional and amateur, so you will be able find abundant facilities, which includes walking and cycling trails. The peak of the summer is in August, when entire Istrian towns, both locals and visitors, celebrate, usually all night long.
Further information on the hotel:
An important point to remember the hotel is seasonal; it operates from April to October.
Hotel contact information;


Address: Obala maršala Tita 15, 52440 Porec
Phone: +385 52 400 800
GPS: 45°13'38.41″N 13°35'33.38″E
Photos Hotel Riviera Porec:
Photos used with permission from Valamar group
Tags: Hotels Porec, Valamar